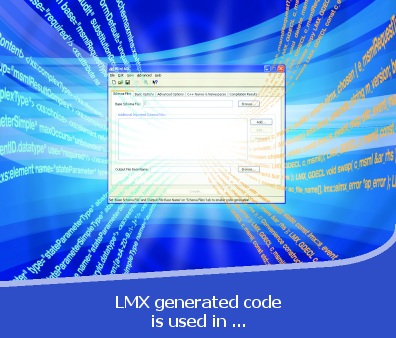 Experience the magic of automated conversion of XML to C++ objects.
Stop doing tedious repetitive manual work and spend more time adding real value to your product.
Use Codalogic's LMX C++ XML data binder to go from XML like:

    <

Name

>Codalogic LMX</

Name

>
to C++ like:

    std::cout << myObject.GetName() << "\n";
Codalogic LMX makes it easy to robustly exchange proprietary and standards-based XML data with remote servers and systems. Also easily store application data, and user preferences in XML format.
The Codalogic LMX XML to C++ Workflow
Click on the image below to walk through the Codalogic LMX XML to C++ workflow:
Testimonials
World leading companies that rely on LMX's XSD
C++ XML data binding
capabilities include:
Boeing, Lockheed Martin, General Dynamics, BAE Systems, Northrop Grumman, QinetiQ, Federal Aviation Administration (FAA), Rolls Royce, Hewlett Packard, Alcatel, Avaya, Samsung, Cisco, Freescale Semiconductor, Seagate, TANDBERG, Thomson, Barclays Capital, Nomura, Schlumberger, ABB Power Technologies, Union Pacific Railroad, CSX Railroad, ... and more
Of particular satisfaction to us is that we have a high percentage of repeat customers.
Here are some of the testimonials our customers have submitted about LMX XSD C++ XML data binding:
"I really like LMX. I can finish my tasks faster and it makes things much easier, especially with such a complete documentation." - Haryono Dianto, Barco Inc.

"Easily the best (most accurate) XML data binding of the tools I've used. And they have the best support I've received from ANY vendor for any tool. Would highly recommend to anybody that needs this ability."

"LMX is a professionally developed product with many great features. The support from Codalogic is the best I've seen and I've been using vendor products for 30 years. " - Nick Godbey, SITA

"[LMX] is much more faster and easier in use than our previous solution" - Stanisław Wierchoła, Gadu-Gadu

"LMX is a really good product; fits right in with what we need to do." - Jeff Hay, HYTEC Inc - (Using Multiple Architectures)

"Thanks for your exceptional service, as always!" - Dave Webb, TENET Technology

"LMX is working like a charm" - 3DCONNEXION - (Using Apple/Mac)

"Our experience has been very positive (especially when compared to using the [ed. other product] code generation)." - ASPECTUSVI

"Your documentation is much clearer than other products I looked at." - British Telecom

"The supporting code compiled on Itanium without problems" - CeBeNetwork GmbH - (Running on HP-UX)

"LMX comes with very complete documentation." - Ronald Bourret's XML Data Binding Resources

"Its a pretty handy tool, and exceptionally small in size!!!" - SPAN Systems - (Using ARM/X-Scale Architecture)

"Thanks for the rapid response, as usual." - University of Teesside School of Health & Social Care
Exploring Further
To explore further:
Note that you can also access these pages using the convenience URL http://www.xml2cpp.com.