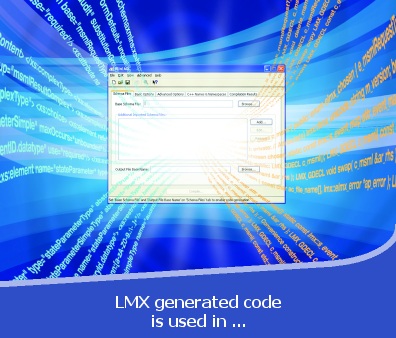 Easily read and write XML data via custom C++ classes generated by Codalogic LMX.
Codalogic LMX is a code generator that generates custom C++ code that mirrors the structure of your XML data. You can describe the structure of your XML to Codalogic LMX using W3C XML schema or an example of your XML instance.
This allows you to read and write XML data like:

    <

Name

>Codalogic LMX</

Name

>
    <

Quantity

>5</

Quantity

>
with C++ code like:

    std::cout 

<<

 myObject.GetName() 

<<

 ": " 

<<


                 myObject.GetQuantity() 

<<

 "\n";
and:

    myObject.SetQuantity( 1 );
    myObject.SetName( L"Codalogic LMX" );
This approach significantly reduces the amount of code you have to write, and also allows for extensive compile-time checking of variables names to make sure you don't accidentally add any hard to find bugs due to typos. It also makes sure that the structure of your XML data is correct, for example, avoiding child elements being placed under the wrong parent.

Some of the benefits of using Codalogic LMX
™
XML to C++ databinding include:
Easy to learn

The output is regular C++ - No need to learn additional libraries and complex DOM / XPath syntax.
Simple to build your project - A minimal number of source files are used so that you don't need to spend time managing builds and have less chance of build errors.

Faster coding

No programming of tedious state code as required with SAX (and StAX) - LMX does all that in a couple of seconds (or less!) - Saves you doing boring programming tasks and avoids accidental cut and paste style errors.
Your IDE can understand the generated C++ code allowing you to use IntelliSense and other similar code completion technology to speed up code development.
Generated documentation aimed at helping code development is included in the generated C++ .h file - Code development can be sped up by copying and pasting key constants and method names into your code.
The View Prototypes mode in the Win32 GUI version allows drag-and-drop of method names and key constants directly into your code.
Generates cross-linked HTML documenting your generated code - Further aids code writing.

Cross-platform

LMX is available in Microsoft Windows® & Linux GUI versions and DOS & Linux command-line versions. The generated code is cross-platform and can be compiled with any standard compliant C++ compiler.

Less time chasing bugs

The names of variables are checked at compile time rather than run time - Simple typos in names are detected automatically and early - Less chance for latent bugs to be lurking in your deployed code. (Also allows operation with IntelliSense.)
Resource management (such as memory) is taken care of - less chance for accidental memory leaks etc.
In short, LMX saves you time writing code and effort debugging. As a result, LMX not only saves you money, but also allows you to improve your product by giving you more time to implement higher value, customer thrilling features.

The Windows® interface version makes it even easier to generate C++ code. Simply select your XML schema file(s), the output file root for the C++ / HTML files, and press the compile button!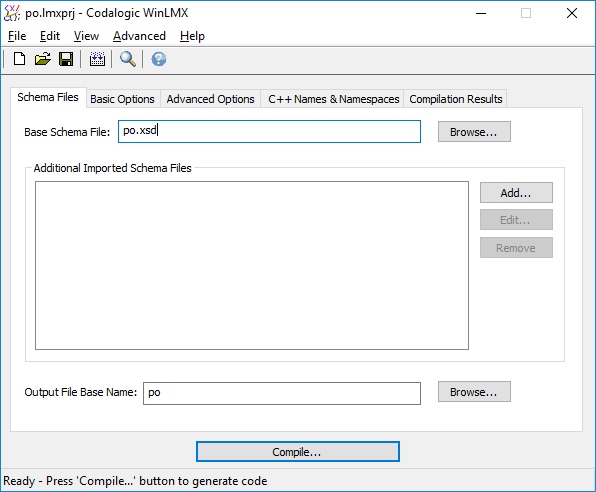 The Codalogic LMX XML to C++ Workflow
Click on the image below to walk through the Codalogic LMX XML to C++ workflow:
Testimonials
World leading companies that rely on LMX's XSD
C++ XML data binding
capabilities include:
Boeing, Lockheed Martin, General Dynamics, BAE Systems, Northrop Grumman, QinetiQ, Federal Aviation Administration (FAA), Rolls Royce, Hewlett Packard, Avaya, Samsung, Cisco, NXP, Seagate, Nomura, Schlumberger, ABB Power Technologies, Union Pacific Railroad, CSX Railroad, ... and more
Of particular satisfaction to us is that we have a high percentage of repeat customers.
Here are some of the testimonials our customers have submitted about LMX XSD C++ XML data binding:
"I really like LMX. I can finish my tasks faster and it makes things much easier, especially with such a complete documentation." - Haryono Dianto, Barco Inc.

"Easily the best (most accurate) XML data binding of the tools I've used. And they have the best support I've received from ANY vendor for any tool. Would highly recommend to anybody that needs this ability."

"LMX is a professionally developed product with many great features. The support from Codalogic is the best I've seen and I've been using vendor products for 30 years. " - Nick Godbey, SITA

"[LMX] is much more faster and easier in use than our previous solution" - Stanisław Wierchoła, Gadu-Gadu

"LMX is a really good product; fits right in with what we need to do." - Jeff Hay - (Using Multiple Architectures)

"Thanks for your exceptional service, as always!" - Dave Webb

"LMX is working like a charm" - 3DCONNEXION - (Using Apple/Mac)

"Our experience has been very positive (especially when compared to using the [ed. other product] code generation)."

"Your documentation is much clearer than other products I looked at." - British Telecom

"The supporting code compiled on Itanium without problems" - (Running on HP-UX)

"LMX comes with very complete documentation." - Ronald Bourret's XML Data Binding Resources

"Its a pretty handy tool, and exceptionally small in size!!!" - (Using ARM/X-Scale Architecture)

"Thanks for the rapid response, as usual." - University of Teesside School of Health & Social Care
Sharing With Your Team
Discuss LMX with your team by emailing them a link this site or downloading our slide decks to aid the conversation.
Any Questions?
Providing exceptional support is very important to us. If you have any questions about Codalogic LMX XML C++ Databinder, please send a message to .
What do you want to do now?
You can:
Providing exceptional support is very important to us. If you have questions about Codalogic LMX XML C++ Databinder, please send a message to .
Note that you can also access these pages using the convenience URL http://www.xml2cpp.com.