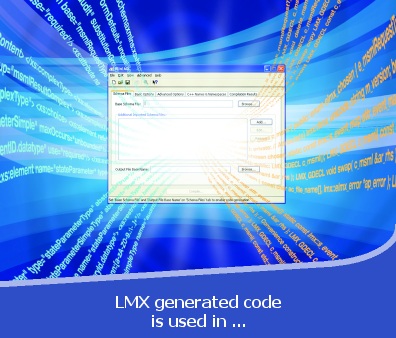 Easily read and write XML data via custom C++ classes generated by Codalogic LMX.
Codalogic LMX is a code generator that generates custom C++ code that mirrors the structure of your XML data. You can describe the structure of your XML to Codalogic LMX using W3C XML schema, or an example of your XML instance.
This allows you to read and write XML data like:

    <

Name

>Codalogic LMX</

Name

>
    <

Quantity

>1</

Quantity

>
with C++ code like:

    std::cout 

<<

 myObject.GetName() 

<<

 ": " 

<<


                 myObject.GetQuantity() 

<<

 "\n";
and:

    myObject.SetQuantity( 1 );
    myObject.SetName( L"Codalogic LMX" );
This approach significantly reduces the amount of code you have to write, and also allows for extensive compile-time checking of variables names to make sure you don't accidentally add any hard to find bugs due to typos. It also makes sure that the structure of your XML data is correct, for example, avoiding child elements being placed under the wrong parent.
Other key benefits include:
Strong exception safe design - popular with aerospace and banking industries
Highly configurable and customizable
Extensive XML type checking
Define your XML using XSD XML Schema, an Annotated XML Example or DTD
Full runtime source code available
Runs on any C++ (C++03 or later) compliant compiler
No dependencies on additional third-party code
Tested on VS2019, VS2017, VS2015, VS2013, VS2012, VS2010, VS2008
Tested on g++ 9.1.0, 7.1.0, 6.3.0, 5.4.0, 4.7.0, 4.4.1, 4.3.3, 3.4.6, 3.2.3
Generous, royalty-free licensing terms

The Codalogic LMX XML to C++ Workflow
Click on the image below to walk through the Codalogic LMX XML to C++ workflow:
Testimonials
World leading companies that rely on LMX's XSD
C++ XML data binding
capabilities include:
Boeing, Lockheed Martin, General Dynamics, BAE Systems, Northrop Grumman, QinetiQ, Federal Aviation Administration (FAA), Rolls Royce, Hewlett Packard, Avaya, Samsung, Cisco, NXP, Seagate, Nomura, Schlumberger, ABB Power Technologies, Union Pacific Railroad, CSX Railroad, ... and more
Of particular satisfaction to us is that we have a high percentage of repeat customers.
Here are some of the testimonials our customers have submitted about LMX XSD C++ XML data binding:
"I really like LMX. I can finish my tasks faster and it makes things much easier, especially with such a complete documentation." - Haryono Dianto, Barco Inc.

"Easily the best (most accurate) XML data binding of the tools I've used. And they have the best support I've received from ANY vendor for any tool. Would highly recommend to anybody that needs this ability."

"LMX is a professionally developed product with many great features. The support from Codalogic is the best I've seen and I've been using vendor products for 30 years. " - Nick Godbey, SITA

"[LMX] is much more faster and easier in use than our previous solution" - Stanisław Wierchoła, Gadu-Gadu

"LMX is a really good product; fits right in with what we need to do." - Jeff Hay, HYTEC Inc - (Using Multiple Architectures)

"Thanks for your exceptional service, as always!" - Dave Webb, TENET Technology

"LMX is working like a charm" - 3DCONNEXION - (Using Apple/Mac)

"Our experience has been very positive (especially when compared to using the [ed. other product] code generation)." - ASPECTUSVI

"Your documentation is much clearer than other products I looked at." - British Telecom

"The supporting code compiled on Itanium without problems" - CeBeNetwork GmbH - (Running on HP-UX)

"LMX comes with very complete documentation." - Ronald Bourret's XML Data Binding Resources

"Its a pretty handy tool, and exceptionally small in size!!!" - SPAN Systems - (Using ARM/X-Scale Architecture)

"Thanks for the rapid response, as usual." - University of Teesside School of Health & Social Care
To Explore Further...
To find out more about Codalogic LMX, you can:
Providing exceptional support is very important to us. If you have questions about Codalogic LMX XML C++ Databinder, please send a message to .
Note that you can also access these pages using the convenience URL http://www.xml2cpp.com.